Home Facial Made EASY!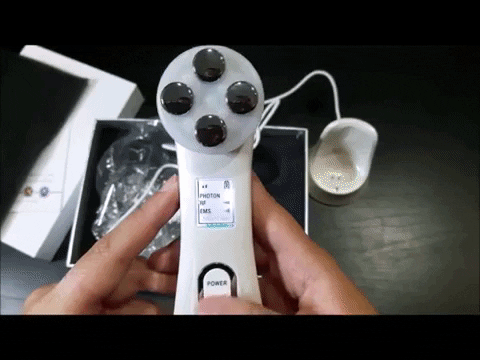 Do you want to look 5 years

YOUNGER?

 All you Need is this! Anti-Aging Device™ LED Photon Skin Care.
Most Effective
 Anti-Aging Solution!
This Device OPERATES with unique deeper stimulating effects which can generate collagen, tighten skin and has remarkable effects of improving skin color.
6-IN-1 FUNCTIONS

- Easy to use

with only 2 buttons with advanced technologies -

 

Mesoporation, Electroporation, LED Light Energy, Radio Frequency (RF) & Electrical Muscle Stimulation (EMS)
DIFFERENT COLOUR USAGE

- 
The different colors consist of
different functions & treatment
for the skin. 
ERGONOMIC DESIGN

- Comfortable to grip & user-friendly

for application
4 ELECTRO PADS

-

  For safe, direct contact to skin with lotion for the most efficiency.
ELECTROPORATION

- Pain-free collagen

enhancement without the injections. Have all the advantages of collagen without one drop of pain.
DETOXIFIES

- 

Using safe, radio frequency technology, this beauty tool

detoxifies skin

as well as

improves blood circulation and lymphatic drainage

.
MICROCURRENT

-

 Uses safe electric pulses to stimulate muscle tissue and preserve the

skin's elasticity and supple feel to tighten skin
NUTRITION

-

 Nutrition import penetration technology is a safer way to deliver nutrients into the skin.

Prevents signs of aging and improves skin

. 
Directions
Clean skin and make sure you are un-wearing metal stuff. 
Apply lotion/essential on the skin and get the device ready. 
 Massage skin with it for 10 minutes each part per day. 
On the same part, treatment shall not over 20 minutes. 
The system will automatically stop every 10 minutes. 
Clean skin and device after use.
.

Press the "POWER" button to switch on the device & choose a light type by pressing "LED SEL." button.
Adjust power output levels by pressing the "POWER" button. 
COLOUR TREATMENT: 

Red Light 

- 
Use to
treat wrinkles skin
 & enhance the
regeneration of collagen
&
skin elasticity

Pink light

 
- Use for
Skin Whitening 
Yellow light
- Use for
dark spots & dull areas 

Blue light 

 
- Use to t
reat acne & oily skin
Green light

 -  
to
treat dark spots or discolored skin
by working to prohibit the overproduction of melanin. Greenlight treatment  
Flashing Pink light 

- 
For aid in the
permeation of skin
care products
The equipment should not be used under the following conditions:
People with an internal transplant, or any type of electronic devices such as an artificial heart transplant, etc. 

Not advisable for patients who recently had surgery on the ab or arm area as it may interfere with the healing process 

Patients with epilepsy 

Blood circulation disorder 

Pregnant and postpartum woman 

Patients with cancer 

Allergic reaction to serums 

Avoid thyroid gland around the neck area

Max time for each treatment is 10 minutes. An alarm goes off at 10-minute intervals.
Amazing results
Oh and guess what? SAVE 50% TODAY ONLY 
LIMITED STOCK - Only 50 Units Available
May take 1-4 weeks to arrive due to high demand.
CLICK '

BUY IT NOW

' ABOVE TO GET YOURS
Package Includes:
1 x Anti-Aging Device™ LED Photon Skin Care

1x Use Manual 

1x Power line
1x Charging stand 


Do You Have a Guarantee?
We have a 30-day money back guarantee. If for any reason you are not 100% satisfied with our products, you may return the item for a full refund. We'd like to let you know that our refund rate is less than 3% due to so many happy customers. Simply email our 24/7 customer service on: support@expressden.com
How Long Will It Take To Arrive?
All orders are sent fully tracked from our nearest warehouse based on your location. Once your order is shipped you will receive an email with your tracking link. 
These are estimated times based on current shipping times* 
United Kingdom, Europe: 7 - 17 business days
USA, Canada: 7 - 18 business days 
Australia, New Zealand: 7 - 17 business days 

South & Central America: 12 - 20 business days 
Orders are processed within 2-3 days then shipped
How Much Is Shipping ?
This product currently has FREE worldwide shipping for a limited time