CLONE Your Favourite Fruit Trees/Plants With EASE With This EasyGrafter™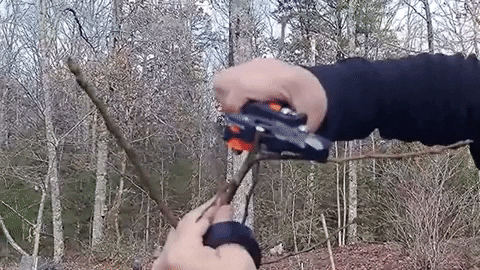 Imagine CLONING  your favourite fruit trees over and over again and PRUNING  in seconds !
Bring your grafting experience to the next level! Introducing the EasyGrafter™ Garden Grafting Tool. This tool lets you combine parts from two different trees to form a single, functioning individual. The benefit? An exact GENETIC  duplicate of the superior tree!
That means, if you have one tree that harvests AMAZING  fruit each year, you can create an EXACT  copy by using this grafting technique an effectively double or TRIPLE  your harvest.
Grafted fruit trees also bloom & produce SOONER  than those that are propagated by seeds - which, by the way, don't produce genetically identical offspring.
That's not all, these are DIFFERENT  from traditional grafting tools, this product does pruning and grafting at the SAME  time, easy to use and more EFFICIENT. 
This tool ALLOWS you to quickly create omega/V/U style grafts with its precise, sharp blade. Even a novice can create perfect grafts with EASE. The grafting blade is ABLE to cut through stock up to 12 mm in diameter. IDEAL  for removing leaves, twigs, and stems without changing the tool.
MAKING a perfect cut for grafting is impossible without professional tools. So get yourself the RIGHT  tools for this summer and keep your garden and harvest blooming !
Oh and guess what? SAVE 50% TODAY ONLY 
LIMITED STOCK - Only 50 Units Available
CLICK '

BUY IT NOW

' ABOVE TO GET YOURS
Package Includes:
1 x EasyGrafter™ Garden Grafting Tool
May take 1-4 weeks to arrive due to high demand.


Do You Have a Guarantee?
We have a 30-day money back guarantee. If for any reason you are not 100% satisfied with our products, you may return the item for a full refund. We'd like to let you know that our refund rate is less than 3% due to so many happy customers. Simply email our 24/7 customer service on: support@expressden.com
How Long Will It Take To Arrive?
All orders are sent fully tracked from our nearest warehouse based on your location. Once your order is shipped you will receive an email with your tracking link. 
These are estimated times based on current shipping times* 
United Kingdom, Europe: 7 - 17 business days
USA, Canada: 7 - 18 business days 
Australia, New Zealand: 7 - 17 business days 

South & Central America: 12 - 20 business days 
Orders are processed within 2-3 days then shipped
How Much Is Shipping ?
This product currently has FREE worldwide shipping for a limited time